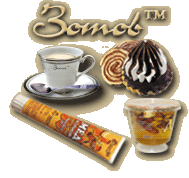 News:
On February, 13 - 17, 2006 TM "Zotov" took part in the International degustation competition " The Best product - 2006 " ...

Glossary:
РS - polystyrene.
PP - polypropylene.
PA - polyamide.

Production activity of the firm:
November 2004 - Beginning of the production activity of the company (manufacturing of foodstuffs)...
June 2004 - Beginning of manufacturing and packing, in the plastic glasses, Desserts honeyed with nuts of TM Zotov...
July 2005 - Beginning manufacturing and packing, in aluminium tubes, Chocolate confectionery pastes of TM Zotov...
December 2005 - Beginning of manufacturing and packing, in aluminium tubes, new sorts of pastes of TM Zotov...

Participation in international exhibitions:
April 2002 - the X-th International specialized exhibition "PAK UKRAINA - 2002" Kiev
October 2005 - the XVIII-th Specialized fair exhibition of food industry products "Foodstuffs of Ukraine' 2005" Kiev

Honey, honey-dessert

It is known that in ancient times honey was considered as perfect food stuff. This wonderful gift of nature, main creators of which are bees and flowers, are used by our ancient ancestors both foodstuff and important remedy for treatment of many diseases. Trade mark "ZOTOV" is pleased to offer you the new variant of dessert - "Dessert honeyed "; it includes nuts, which is useful energy components too. Furthermore, protein, contained in them, is universal building material of human organism.

The most suitable choice for desserts is transparent polypropylene glass with golden embossing. Thus, it can be possible to see all natural beauty of our products and soon after, you will wish to taste it.

With help of such packing, the desserts honeyed can be use:
at home;
at work;
on the journey (in a train, in a vehicle);
outdoor;




After purchasing our products, surely you will wish to arrange tea-drinking with original honey-dessert for your relatives and friends. Bon appetit!





Detailed information about our assortment...

Chocolate confectionary pastes

Sweets are always favourite dainty for grown-ups and children. In addition to honey desserts, which fascinated our customers due to their taste properties, the company "Kievuniprom" under trade mark "ZOTOV" represents the new sort of product - CHOCOLATE CONFECTIONARY PASTES, which can be tasted by gourmand of sweets!

Manufacturing of pastes is based on cocoa powder, without which it is impossible to make real chocolate, that contains necessary microelements, which stimulate capacity for work and improve immunity.
Besides its useful properties this product has amazing taste and pleasant flavour. Our product quality yields to no one of the foreign analogues, and some properties surpass them. We would like to note that all products are inspected and certified and are made of selected raw stuff. Original colourful packing (aluminium tube) will attract your attention.

A bun or confectionary with chocolate paste, it is so delicious. Prepare for your relatives nutrient lunch! Don't forget to take it with you when you're going on hike or long journey. When you are at work or at somebody's place, it will be pleasant surprise with unforgettable taste.

Detailed information about our assortment...